Lipolysis Chicago
We use I-Lipo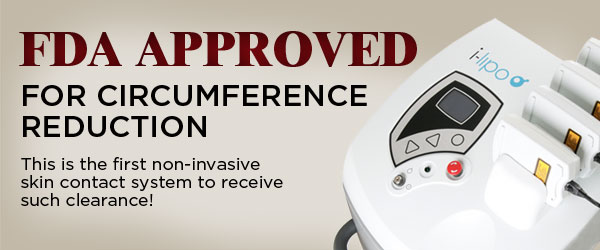 i Lipo v Liposuction
Unlike liposuction which requires anaesthesia and a surgical procedure, i-lipo (like other forms of laser lipolysis) requires no anaesthesia and is completely non-invasive.  This means that no surgery, not even a small incision, is required.  As a result there is no recuperation time for I lipo and other forms of laser lipolysis and this is one of the most attractive benefits of this form of inch loss treatment.
Mechanism of Action
Low level lasers have been utilized as effective treatments in fat reduction for several years. The i-Lipo Ultra low level lasers are released through the treatment pads, triggering a chemical signal in the fat cells that breaks down stored triglycerides into free fatty acids and glycerol, which are released through the cell membranes. Fat content is then transported around the body to tissues where it will be "burned off" during a period of post-treatment exercise.
2 Hours starvation prior and after the treatment along with post treatment exercise is essential for optimal results. Fatty acid utilization in the cells for energy is enhanced by Skeletal Muscles and Adipose tissues during starvation.
Often results can be seen immediately and improve with every treatment. Over the course of eight sessions, you can achieve dramatic reshaping of the body, fat reduction and cellulite improvement.
Physiology
1-2 treatments per week for 4 weeks.
i-Lipo is a $1600 for 8 treatments.
Call now to schedule appointment, all procedures supervised by a Medical Doctor.
We Use The FDA Cleared i-Lipo
i-Lipo Weight Loss
i-Lipo™ is the latest in laser lipolysis, offering you a way to achieve inch loss and body contouring with no pain, no needles and no down time.
Lose Inches in Just Minutes
Effortless Weight Loss
Independent clinical studies have shown i-Lipo to be comparable to results achieved by liposuction. Ultrasound imagery shows up to 30% reduction in the fat layer depth after just one treatment. Additional treatments improve results further.
i-Lipo Wins "Best Slimming Treatment" at Les Victoires de la Beauté
Chromogenex's i-Lipo system has just won the "Best Slimming Treatment" award at "Les Victoires de la Beauté" in France.
i-Lipo uses low levels of visible red laser light to create a safe and painless bio-stimulation effect in the targeted fat tissue. This stimulation is of the normal chemical pathways which the body uses to free up energy resources when required, so i-Lipo does not produce any abnormal effects in the body or damage body tissue such as cells, blood vessels or neighboring nerves or vital organs. The treatment can be performed on all skin types and body areas where unwanted fat is stored and you can return to normal activity immediately after treatment.
Results can be seen immediately after treatment. Typically a 2-4cm loss in abdomen circumference can be achieved with every treatment. A course of 8 treatments is recommended over 4 weeks with 2 treatments per week. Comparable results for any body area treated.
i-Lipo can target fat reduction in specific problem areas. By positioning the laser pads on an area such as chin, upper arms, abdomen or thighs, fat can be broken down and removed specifically from that area. This is a great advantage over diet and exercise which can reduce overall body fat, but not shape individual areas.
Posted on September 21, 2012 by
Chromogenex Receives FDA Clearance for Circumferential Reduction for i-Lipo Body Contouring System
Newly introduced to U.S. market, successful system is leading option for physicians treating  fat reduction non-surgically.
NEW YORK, NY – Chromogenex announced today that they have received FDA approval to market the i-Lipo low-level laser diode device for circumferential reduction of the waist. i-Lipo is the first direct skin contact laser device designed for fat reduction and body contouring to receive FDA approval for circumference reduction. Based on results from a recent double-blind, placebo-controlled, randomized study of 34 volunteers, the FDA found that over 70% of participants experienced significant inch loss, thus validating the use of i-Lipo to target specifically chosen anatomical areas for fat reduction. The results represented more than double the percentage difference for meeting significant results as defined by the FDA.
"This study supports previous studies completed in France and the UK and from results experienced by current i-Lipo devices already placed in over 1000 commercial clinics worldwide," stated Peter McGuinness, CEO of Chromogenex Technologies LTD. "This result from the FDA is extremely statistically significant and gives confidence of 99.99% that a participant undertaking i-Lipo will achieve a greater circumference reduction than a participant undertaking exercise alone in a three to four week period."